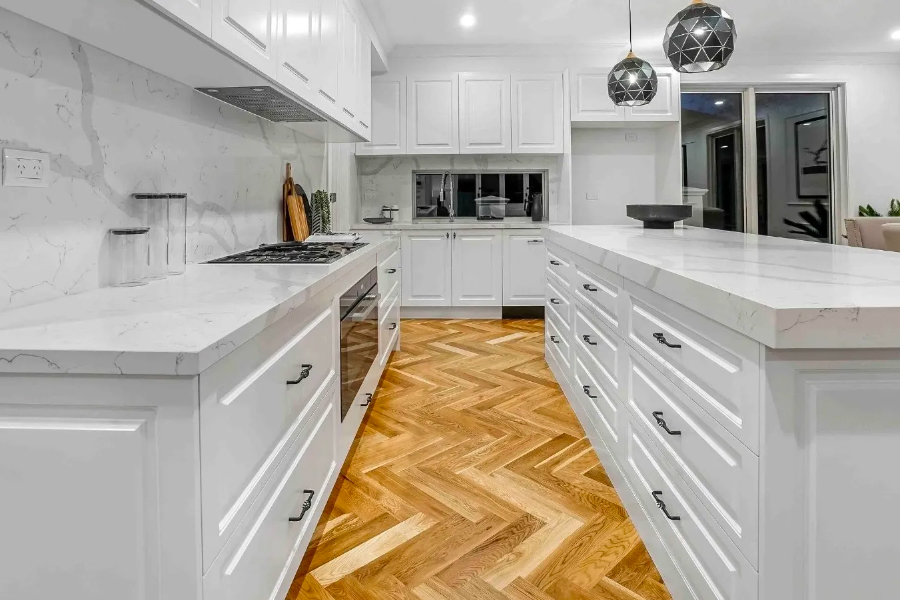 Different flooring types are available based on quality, need, location and rooms. Similarly, there is a type of flooring suited for every room – kitchen, bathroom, family room, and others.
Each of these types also brings in a unique kind of aesthetics and beauty. They also differ in terms of cost, durability, and others. Common types of floorings include marble, vitrified tile, vinyl, hardwood, granite, bamboo, and concrete.
Read on to know more about the unique and ideal flooring choices for every room in your house.
Kitchen
The kitchen has the most dirt and dust, from the countertop to the floor. With the cracks and gaps accumulating so much dust, it requires some of the most hard-working floors. Plus, aesthetic kitchens are our new choice.
The two top kitchen flooring choices are porcelain tile and vinyl. The former has a higher resistance to scratches and resists dents. In addition, these tiles need significantly less maintenance, which is the best kind of flooring you need for a kitchen. On the other hand, vinyl is very affordable, durable, and easy to install. Since replacements are easier, vinyl flooring for the kitchen is a good choice.
Livingroom
Livingroom gives a very cozy comfort and a calming scene. The flooring needs to vibe with the room, have strong resistance and add more aesthetics and value. Hardwood is the best flooring, and both varieties of hardwood – solid wood and engineered wood – work well for the living room.
Prefinished solid flooring is already sanded and ready to be installed. So you can install prefinished solid wood and walk on them almost immediately. It is also cost-effective and does not wear easily. Engineered wood, which has a semblance of solid wood, is a plywoodlike substrate. Though it does not have the longevity of solid wood, it is a good alternative that can save a lot.
Bathroom
Bathroom and laundry rooms also need very hard-working flooring like the kitchen floors. There would be heavy foot traffic in such places. It will also have constant contact with water and moisture. Therefore, your flooring should be moisture resistant.
Like kitchen flooring, porcelain tile and vinyl are the two better choices in the lot. Porcelain tiles are better than wood in bathrooms because they work well for wet places, holding up moisture. Similarly, vinyl is the runner-up to porcelain; though it wears off a little easier than tile, it goes a long way in resisting wetness.
Basement
Basements need the most care when it comes to flooring. The primary flooring that structures the building can get quickly damped, as the basement is closest to the ground. You can recreate the basement to anything you want: storage room, wine cellar, playroom, etc. You need a floating floor that attaches only to itself.
The top choice for the basement is vinyl. It acts excellent with wetness and water and resists the water content. Basements are easily moisture-prone, and vinyl can act as waterproof flooring. Since porcelain feels cold underfoot, vinyl tops for basement. Laminate is the second best and most affordable choice.