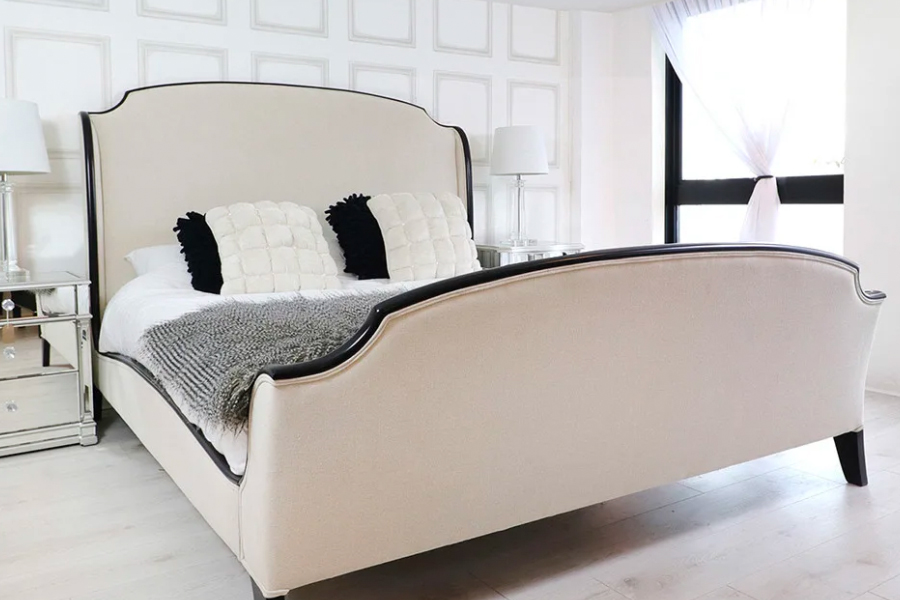 If your bedroom décor feels a little outdated, it might be time for a refresh. One way to give your bedroom a new look is to switch up the style of your bed. There are a variety of bed styles to choose from, each with its unique aesthetic. Here are some different bed styles to consider if you're looking to revamp your bedroom décor:
Mirrored 4 Poster Bed
A mirrored 4 poster bed is a glamorous and eye-catching choice for a bedroom. The mirrored finish on the posts adds a touch of glamour, while the oak and iron construction provides sturdy support for a comfortable night's sleep.
Gold finishing completes the look, making this bed a luxurious addition to any bedroom. Whether you're looking for a show-stopping piece for your master bedroom or a unique bed for your guest room, the Mirrored 4 Poster Bed is sure to impress. With its tall posts and dramatic silhouette, a mirrored 4 poster bed will make a statement in any space.
French Style Super King Beds
Revamp your bedroom into a chic French retreat with a French style super king bed. They have a classic design with intricate details that add a touch of luxury. The beds come in various designs and colors that can easily match any bedroom interior design. From those made from high-quality wood such as pine, mahogany, and oak wood, to those upholstered in fine linen, the possibilities are endless.
Consider getting a bed with an antique white finishing for a timeless look. No matter what design you choose, a French style super king bed will give your bedroom an elegant and sophisticated makeover.
French Style Black Bedroom Furniture Sets
French Style Black Bedroom Furniture Sets are the perfect way to create a luxurious boudoir feel in your bedroom. If you're going for a boutique hotel, feel or want to infuse your home with some sumptuous dark energy, this is the definitive collection for you.
This collection features a beautiful black finish perfect for creating a dramatic and romantic aesthetic. The furniture is also adorned with intricate gold details that add a touch of elegance and sophistication. From the bed frame and nightstands to the dresser and mirror, this collection has everything you need to transform your bedroom into a French-inspired retreat.
Sleigh Beds
Sleigh beds have a classic, elegant look that can transform any room into a luxurious haven. And sleigh beds come in different styles, so you're sure to find one that perfectly fits your taste. If you want a sleigh bed that's modern and stylish, go for one with clean lines and a simple design. Or, if you're going for a more traditional look, try a sleigh bed with intricate carvings and detailed woodwork. No matter your style, a sleigh bed will give a stately look to your bedroom.
Rattan Beds
Rattan beds are perfect for creating a tropical oasis in your bedroom. The natural material and woven design give these beds a relaxed yet stylish look. Rattan is a durable material that can withstand everyday wear and tear, so you can enjoy your bed for years to come. Whether you choose a simple design or an intricate one, a rattan bed will surely add a touch of paradise to your bedroom. The variety of designs means you can find a rattan bed to fit any style.
Revamp Your Bedroom with a New Bed Style
If you're looking to give your bedroom a makeover, switching up the style of your bed is a great place to start. These are only a few different bed styles available on the market. When choosing a bed, it's important to consider your personal style and the overall look you want to achieve in your bedroom. With so many options available, you're sure to find the perfect bed to create the bedroom of your dreams.